LAKEVIEW – Designer Tania Mackey wants to revive the "dying art" of couture by teaching classes at her Lakeview store.
Mackey opened Niczka Studio, 3140 N. Lincoln Ave., in June after spending several months operating out of a pop-up storefront in West Town.
Niczka offers handmade clothing, custom pieces, alterations and thrift stores, but Mackey said she hopes to expand the practice to start teaching sewing classes.
"I want it to become a creative space where people can come in, learn to sew, and come away with a finished piece depending on the level of class they're taking," Mackey said. "Sewing is a dying art, and it can't be."
The store will offer classes for children and adults of varying skill levels, Mackey said.
"Classes will always be a tutorial so people can take something home," Mackey said. "The beginner class for the kids would be on how to make a seasonal pillowcase or something simple so I could show them how to start and end stitches."
In more advanced grades, kids might learn to make things like pencil cases, shorts, skirts or mini messenger bags, Mackey said.
For adults, Mackey said she's considering 'sip and sew' classes where people can have a drink with friends while learning to sew, whether it's a beginner's class or more. targeted at hemming, taking jackets or pants, and creating other items.
"I think these classes would be great to kick off for the winter because it gives you something to do indoors with your friends or kids," Mackey said.
But before they can start teaching, Niczka Studio needs more sewing machines to accommodate the classes. Mackey said she was collecting donations through the store's Facebook page and had already received four sewing machines. People can contact Mackey through Niczka's Facebook page if they wish to donate a machine.
"If you have a working sewing machine that you're not using and it's gathering dust, it would definitely be used here for a good cause," Mackey said.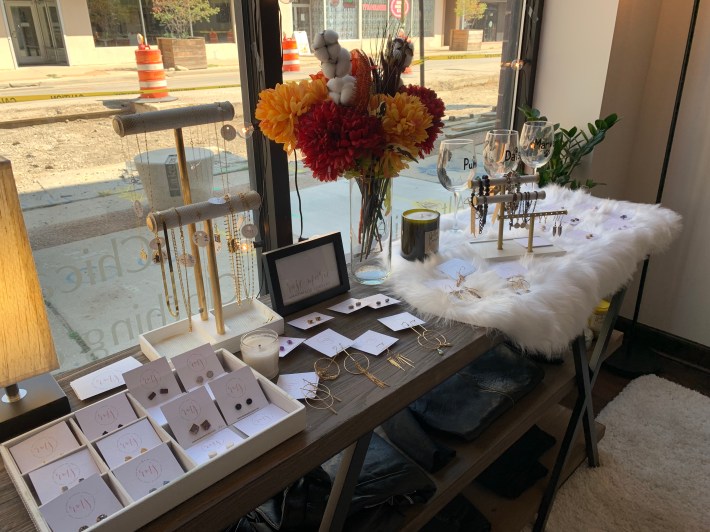 Before finding his most permanent home in Lakeview, Niczka had run out of a 550-square-foot pop-up storefront occupied by the West Town Chamber of Commerce.
Mackey, who opened the pop-up in December, said she had worked at her "next door" clothing store for the past five years while working other jobs. Opening the store had been a dream of hers ever since she learned to sew with her mother in middle school, Mackey said.
Mackey said it was a "strange time" to open the store amid the pandemic, but the timing seemed right to him.
"If I can make it through a month like this, then I can make it anywhere after that," she said. "It wasn't super planned. … It was me who was fed up with not pursuing my dream.
Niczka Studio is open 11:30 a.m. to 6:30 p.m. Wednesday through Friday, 11:30 a.m. to 5:30 p.m. Saturday, and 11 a.m. to 4 p.m. Sunday. The shop is closed on Mondays and Tuesdays.
Follow the store on Facebook, instagram and pinterest for more information.
Jake Wittich is a Report for America corps member covering Lakeview, Lincoln Park and LGBTQ communities across the city for Block Club Chicago.
Subscribe to Block Club Chicago, an independent, 501(c)(3), journalist-run newsroom. Every penny we earn funds neighborhoods across Chicago.
Already subscribed? Click on here to support Block Club with a tax deductible donation.
Listen to "It's Alright: A Block Club Chicago Podcast" here: