A long-time community volunteer, Peg Van Grouw is always looking for ways to make a difference in her community.
When she volunteered with Community Action House's Volunteer Income Tax Assistance Program in 2020, she wanted to find another way to stay involved with the organization.
On a recent trip to CAH's newly opened Food Club & Opportunity Hub, she saw volunteers wearing brightly colored aprons. Hearing about CAH's upcoming efforts to launch healthy eating and nutrition classes in its on-site demonstration kitchen, Van Grouw came up with an offer.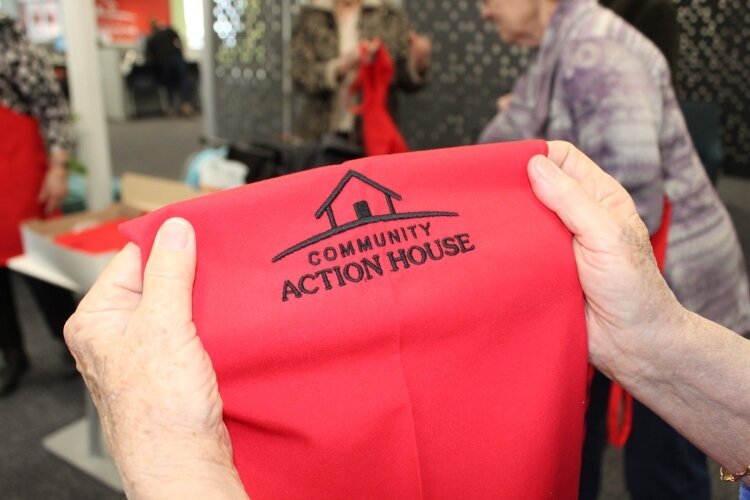 Senior volunteers sewed the aprons for clients of the Community Action House. (ACH)
Soon she had enlisted a group of friends and neighbors at Freedom Village to sew custom aprons for cooking class attendees, supported by a service grant from the Hope Academy of Senior Professionals.
In no time, the 10 volunteers worked together to design and sew 20 aprons, which will be used by guests during cooking classes in the demonstration kitchen.
Building Healthy Food Experiences
The Food Club & Opportunity Hub opened last October, located in Yff's former neighborhood grocery store at 739 Paw Paw. In just five months, more than 1,200 low-income families have benefited from the Food Club membership program, which provides access to healthy foods through a grocery store-style experience.
The Demonstration Kitchen, located in the adjacent Opportunity Hub, was designed as a culinary and nutrition training venue for Food Club members.
Jennifer Ramos recently joined the CAH team as Healthy Eating Program Coordinator and is excited to be launching the educational pathways in the coming weeks.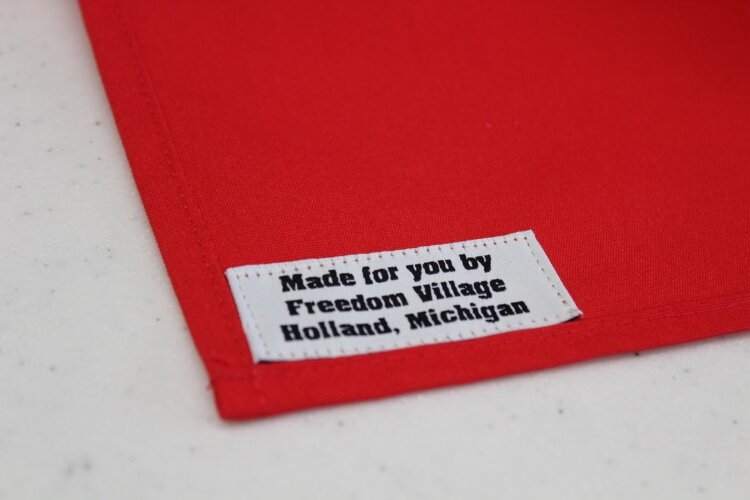 Residents of the senior community, Freedom VIllage, have created a tag for the aprons. (ACH)
"Our healthy eating program will allow us to spread healthy eating education within our community and to Food Club guests," Ramos said. "We are excited to offer culturally diverse demonstrations, hands-on cooking classes, healthy meal kits, tastings, and to increase engagement with our community partners. Our goal is to provide the tools needed to lead a healthier lifestyle.
The cooking classes will cover healthy eating tips, cooking techniques and recipes for members with health/dietary restrictions. Combined with the Food Club's focus on fresh fruits and vegetables, as well as healthy meal kits and tasting stations, these classes are another way to partner with guests to achieve individual and community goals. aimed at increasing healthy eating habits for all.
Food Club improves access by removing cost and convenience barriers to healthy eating, and these classes will address barriers to culinary knowledge, especially for customers wondering how to cook with ingredients that are new to them. .
In addition to fresh produce, meat and dairy, the Food Club & Opportunity Hub aims to provide the tools and resources members need to achieve food access and financial stability. Customers can shop and then stop by the Opportunity Hub, where resource specialists can connect them to financial education, foreclosure prevention services and other community resources.